About
Chérie Wheatcroft
Chérie excels in painting landscapes, seascapes, wildlife, and portraits and is continually commissioned on many different subjects, working in all media.
Completely self-taught as a professional artist, Cherie has had to overcome many hurdles, including severe burns to her hands, cancer, a car accident, bowel and ureter operations, kidney stones, kidney removal, giant cell artiritis and preventative laser eye treatment in order to achieve her lifelong ambition.
Her database of clients now stretches worldwide, particularly the USA, Canada and Australia, as well as throughout the UK. She has featured in the National Weekly News, on TV Christchurch, New World Films as well as in the Bournemouth Echo and most recently on BBC's 'Home Away from Home' series and one of Louis Theroux's documentaries.
Chérie holds continual, successful exhibitions in Dorset and other parts of the UK, and was 'Artist in Residence' at Place Mill Gallery, Christchurch, Dorset from 2014-2021. She also gives demonstrations to Art Societies, does individual and group lessons in acrylics and oils and tuition at workshops. She previously ran painting holidays in the New Forest and Bournemouth in conjunction with Forestdale Hotels
Please order off the online shop on this site. Thanks. 
My latest original acrylics, 'Evening Sun, Christchurch Quay' & 'Sea Daisies' are now available to purchase in the online shop!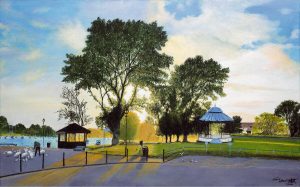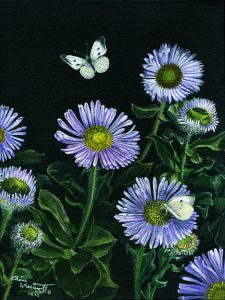 Cherie is a member of  the Society of All Artists (SAA)