About
Mrs Chérie Wheatcroft-Jenns
It is with great sadness and a very heavy heart to say that my wife Cherie passed away on 29th June, 2023. She will be greatly missed by us all who knew her. The news page has a little more information. I know Cherie would want you to browse the site and enjoy her work…….
Chérie excelled in painting landscapes, seascapes, wildlife, and portraits and was continually commissioned on many different subjects, working in all media.
Completely self-taught as a professional artist, Cherie had to overcome many hurdles, including severe burns to her hands, cervical cancer, a car accident, bowel and ureter operations, kidney stones, kidney removal, giant cell artiritis, and preventative laser eye treatment in order to achieve her lifelong ambition. Sadly, she was taken from us this year after further battles with a major operation and subsequent cancer. She continued painting until it was no longer possible, such was her determination.
Her database of clients stretches worldwide, particularly the USA, Canada and Australia, as well as throughout the UK. She has featured in the National Weekly News, on TV Christchurch, New World Films as well as in the Bournemouth Echo and more recently on BBC's 'Home Away from Home' series featuring 'Dorset v Devon' and the Louis Theroux documentary, discussing her abuse by  Saville. She also teamed up with Dame Esther Rantzen on stage to support Childline and NSPCC.
Chérie held continual, successful exhibitions in Dorset and other parts of the UK, and was 'Artist in Residence' at Place Mill Gallery, Christchurch, Dorset from 2014-2021, although she began at the premises in 2006. She also gave demonstrations to Art Societies, did individual and group lessons in acrylics and oils and tuition at workshops. She previously ran painting holidays in the New Forest and Bournemouth in conjunction with Forestdale Hotels, with Burley Manor Hotel as the basecamp!
Love for always.
Clive Jenns.
Please order off the online shop on this site or contact [email protected] 
The latest original acrylics, 'Evening Sun, Christchurch Quay' & 'Sea Daisies' are now available to purchase in the online shop! Thanks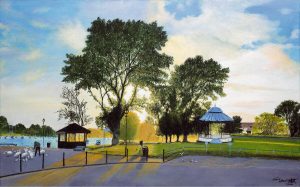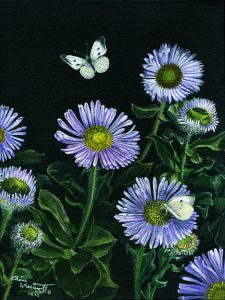 Cherie was a member of  the Society of All Artists (SAA) and Fine Art Trade Guild.