News
News Roundup

20.07.22
 Please order off the online shop or contact me direct. Thanks.
SUMMER SIZZLER SALE JULY 25th – AUG 24th !!
Place Mill Gallery is currently closed by BCP Council.
If you didnt get a chance to come down, below is a virtual tour from the 2017 season!.
NEW PAINTING. (Acrylic original on canvas. –  'Evening Sun, Christchurch Quay') is now available to purchase off the online shop!!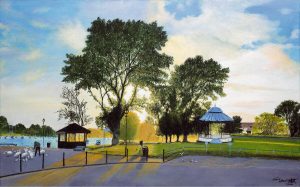 Please order off the online shop or contact me direct. Thanks
Place Mill Gallery (my residency)  closed for the season 2021 after a short but very busy and successful few months! It is currently closed by BCP Council
 We hope sincerely that this finds you safe and well and wish you good health and happiness for  2022 in what continues to be a very tough time for many people here and all over the world.
Sadly, we are  unable to do the usual exhibitions in the Ark at Compton Acres  in late Jan and Feb as we did until 2020, but hope to be able to return there at some stage.
Here is a quick review of previous news……
2020. Well, the exhibition year started off for us in January/February 2020, and got off to a fabulous start -health and weather excepted – at The Ark, Compton Acres near Canford Cliffs Village in Poole. It was great to see so many familiar faces, and the new paintings were received very well. Indeed, one of my latest, 'Sunny Wooded Walk', has now sold. As always, we were made very welcome by the team, Monica, Rachel, Mel and Delma. They will make you most welcome too and if you have not had the chance to visit then pop it on the list of things to do. As well as Gifted Moments at The Ark with a great array of gifts, the plant centre is excellent and there is an award winning cafe on site, as well as the magnificent Japanese themed Gardens themselves of course. 
Place Mill was closed by the council for the duration of the 2020 season due to the pandemic
My partner Clive's short story 'The Lost Sole' is doing very well -it is about a characterful shoe that has been washed away to sea, and has been adapted into a short animation film suited to both adults and children. The trailer is available on YouTube and if you like it, you can buy the film for 99p from www.clivemjenns.co.uk or Vimeo. It has already won six awards, including Flicks Film Festival, Feel the Reel, Top Shorts, Independent Shorts Awards and recently the Best Animation at the LIFF film festival in Ontario.
past news……
A lot of people from all over the country who saw me featured in the BBC's 'Home Away from Home' series where Devon (Paignton) was pitched against Dorset (Christchurch) came down to see what Place Mill on Christchurch Quay looked like for real, where my painting activity was filmed. For those who didn't see it– Christchurch came out on top, with my painting activity getting top marks!   
I also featured on Louis Theroux's new documentary on BBC 2 in October 2016 – this was regarding my traumatic time as a Jimmy Savile victim when I was a teenager, whilst recovering from severe burns to my hands at Stoke Mandeville Hospital. Also, October 2017, I was interviewed on stage by Dame Esther Rantzen in connection with Childline and the NSPCC to help raise awareness whilst discussing my own ordeal at the hands  of Savile and a senior medical professional. This was featured also in the Bournemouth Daily Echo.  
Myself and Place Mill are featured in a book that came out recently called 'Lesser Known Christchurch' by Steve Roberts. The ISBN number is 9781906651-268. It is published by Roving Press and costs £11.99. If you would like more details, please email us and we'll let you know any more information. It gives some of the unusual tales of Christchurch people and places. 
Whilst on the subject of books, in case you missed it…
Clive completed topiary gardener Keith Howkins' life story called 'The Garden House on the Corner…the story of a Berkshire lad' and is available  (ISBN 9781906631512)through Amazon and all good book shops. For more information on the book or to order a signed copy while stocks last, please visit his website at www.clivemjenns.co.uk  . This will be of particular interest for those with connections to Reading and High Wycombe.
Hope you are enjoying the new easy to 'navigate and buy' website. Will be adding any new paintings and news at our earliest opportunity. We are very pleased with the site and hope it gives an 'added dimension' to my work.
If you do have a commission in mind for the coming year or next, please let me know in good time.
Hopefully, we will see you at one of the exhibitions when we can get going again safely, and it goes without saying, but thank you very much for buying any paintings, prints or cards.
Best wishes
Cherie
20.07.22
ART FOR SALE!! ONLINE SUMMER SIZZLER SALE JULY 25th – AUG 24th!!    
20.07.22
Please order off the online shop or contact me direct. Thanks.
20.07.22
 Please order off the online shop or contact me direct. Thanks. SUMMER SIZZLER SALE JULY 25th – AUG 24th !!…