News
CHERIE HAS SADLY PASSED AWAY
21.07.23
It is with great sadness and a heavy heart to say that my wife, Mrs Cherie Wheatcroft-Jenns, passed away on 29th June 2023. 
She is an inspiration to us all in the way that she has battled through adversity, and I know she will be greatly missed by not only myself, her family and friends but everyone that knew her.
There are many customers who have become friends and familiar faces from all over the UK and indeed all over the world who admire her amazing artwork and character.
The only positive thought that keeps me going at this horrendous time is that my dear Cherie is not suffering pain anymore.
Her humanitarian service will be held at the New Forest Crematorium, Stem Lane, New Milton, BH25 5HF on Wednesday 26th July at 2.00pm. As a Fine Artist who loved sunshine, vibrancy and colour will be the order of the day for her celebration of life.
No flowers please, but donations can be made to Macmillan Caring Locally, Cats Protection and the Kevin Richardson Foundation via this online link: https://cheriewheatcroft-jenns.muchloved.com
Clive.
 I can be contacted through [email protected]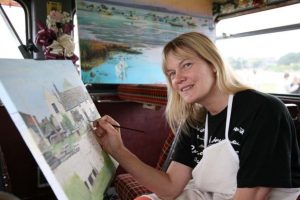 21.07.23
It is with great sadness and a heavy heart to say that my wife, Mrs Cherie Wheatcroft-Jenns, passed away on…